some bananas are
better than others.
..and so it goes with sign companies. While our ultimate goal is for your end product to be everything you imagined it could be, and more, it is important that the process is enjoyable as well. Each project is in some way an extension of our selves. Making signs is not just a way for us to earn a living, a simple means to an end, but rather a journey in creative expression.

find out more
view our portfolio
We welcome your
"special" projects.
Our customer spent a small fortune having this boat built here in Maine. The name was the finishing touch. Needless to say he was very specific about the "feel" of the graphic. After a couple texts, and a few more proofs, he sailed away, satisfied and appreciative.


find out more
view our portfolio
Trust us, we know
what we're doing.
Chuck has been a customer of ours for 18 years. His towing business has come full circle. He now has new trucks that need lettering. He used to try to design them himself. Now he drops them off and says, "I want this one to be special so I'll just leave it up to you to do what you do best" :-)

find out more
view our portfolio
Awesome affordable signs of all kinds!
Thanks for visiting our site. We hope that it will help you to get to know our work, as well as our philosophy. When visiting the gallery, be sure to enjoy the different views of a project by clicking on the thumbnails and allow our creativity to inspire your ideas.
Featured Work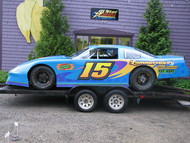 Harold's Car